As the market for Bluetooth wireless earbuds continues to grow, so does the need for efficient and effective testing methods. In this post, we'll explore different approaches for key aspects of earbud testing, each with their own unique benefits.
Integrated Cobot Manipulation
Nextgen ATAM Connect offers a comprehensive testing platform that incorporates the use of cobot automation for physical manipulation testing. The ATAM Connect cobot automation platform streamlines the TWS earbud testing process, allowing for rapid testing of physical earbud and case sensors and their corresponding actions and functions. With the use of cobot motion automation, the system is capable of testing all the smart hardware functions of the earbuds, including touch sensor functions, ear presence detection, battery level tests, single earbud mode functions, audio switching and more. This innovative solution saves time and reduces the risk of human error, making it a game-changer in the TWS earbud testing process.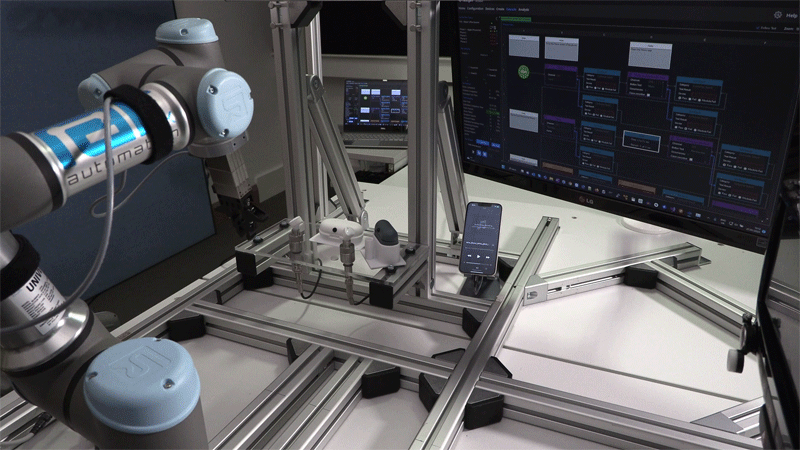 Comprehensive Test Suite
The ATAM Connect platform offers a complete test suite for earbud development and testing, including smartphone control for pairing and apps, Bluetooth connection tests, audio quality tests, VR tests, voice quality and recognition testing (POLQA) and more. With the integration of these various tests, ATAM Connect cobot provides an end-to-end solution for earbud development and testing, ensuring that every earbud function is thoroughly tested and optimised.
Intuitive User-Friendly Interface
The system is designed to be user-friendly, incorporating a powerful graphical user interface environment called ATAM FlexFlow, for intuitive programming of the full test sequence. ATAM Connect's codeless FlexFlow interface is designed to be easy to use, with a clear, logical and straightforward graphical layout that allows even inexperienced users to program complex test sequences with ease.
With the integration of these various tests, ATAM Connect cobot for TWS testing provides a comprehensive solution for earbud development and testing, ensuring that every aspect of the earbuds is thoroughly tested and optimised.
Safety First
To ensure safety and ease of use, the ATAM Connect cobot platform includes safety mechanisms to allow it to be set up to work alongside human engineers. This ensures that the platform can be used with confidence, putting the safety of human engineers at the forefront.
Functional testing and validation - a case study
Using this test system Nextgen ATAM Connect helped a global headphone OEM extend its market share by testing crucial over-the-air firmware updates for wireless headphones. Like many of the world's leading headphone manufacturers, the OEM relies on firmware updates issued through a companion app to ensure in-market products remained compatible with both existing and new devices. Nextgen ATAM Connect was configured at the heart of the system. It automatically checked the OEM's build server for firmware updates. If it found a firmware update, ATAM Connect then ran a full testing programme across a suite of 10 reference mobile devices specifically chosen to represent a mix of manufacturers, OS levels and Bluetooth stacks. The tests checked audio quality and integrated wireless connectivity to a far greater depth than previous manual testing regimes.
Thanks to Nextgen ATAM, the headphone OEM was able to halve the time it took to test each firmware build while simultaneously doubling the number of mobile devices tested. On top of this, the depth of testing was significantly increased and firmware testing can happen 24/7. ATAM Connect automation tested the performance and compatibility of each firmware update across several functions, including calls, music streaming with glitch detection, audio quality and connectivity.
Illustration of a 1KHz audio test file exhibiting an intentional 10ms glitch at 10 seconds
Comprehensive Bluetooth Earbud test solution
ATAM Connect earbud audio testing provides an end-to-end test suite for Bluetooth earbuds and headphones. ATAM Connect is ideal for benchmarking earbud performance, testing a full range of functions and end-user scenarios, and generating comparative performance baselines. The ATAM Connect automation platform tests Bluetooth / Bluetooth LE audio and Auracast device connections and confirms wireless interoperability along with audio quality metrics. Using fully automated sequences, the performance over many hours of usage can be assessed.

ATAM Connect Audio tests earbud performance with Android and Apple host phones, as well as Windows and Apple computers. ATAM Connect controls all earbud functions and manipulates the host phone device menus and launches apps and controls app features and functions. The platform can manipulate physical controls and sensors on earbuds, simulating user touches and controls.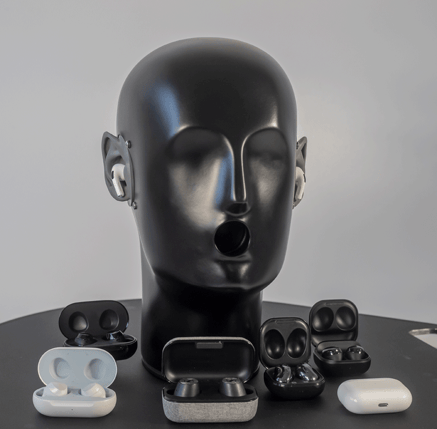 Nextgen's Acoustic Head Simulator is a calibrated physical fixture for comparative metrics and in conjunction with automated RF interferers and attenuators it will accurately model performance characteristics in real-world RF environments. Nextgen automation tests all hardware and software functions, and audio performance - all in one single automated test process that emulates the end-user experience.
ATAM Connect Automation
ATAM Connect from Nextgen efficiently tests earbud performance including sensors, audio quality, verification of firmware updates, and all audio functions to offer innovative and effective ways to test Bluetooth wireless earbuds and headphones. Whether you're a manufacturer, developer, or test engineer, these solutions can help streamline the testing process, reduce the risk of human error, and ensure that every aspect of the earbuds is thoroughly tested and optimized for the best possible performance.
To see our automated connectivity test solutions for developers in action, please book a demo or call Nextgen on +44 3331 120 000.